Membership
Why register as an NCF member?
– Only NCF members can apply for NCF grant money.
– Discounts on Workshops and materials.
– Select discounts at NCF venues and events.
– NCF member priority booking.
– Inclusion in NCF member only activities.
– Be part of the education and development of comedians.
– Help at-risk teens.
National Comedy Foundation has two types of membership available, Member and Corporate Member. Download Membership Form Here
Individual Members
Individual Members can apply for grants, attend member only functions, use available NCF member resources and nominate board members.
Members also have priority booking and select discounts at NCF venues and events.
Membership Dues are $20 annually.
Lifetime Membership is $200
Corporate Members
Can attend member only functions, nominate board members.
Corporate Membership Dues are $100 annually.
Member Seals
Members may also officially use member seals on websites and promotional material.
We have two sizes available.
Right Click the image and choose to Save the Image.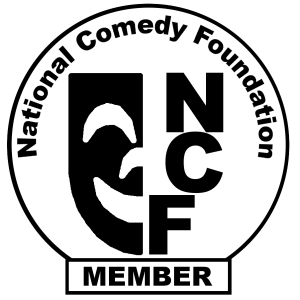 Consider linking back to http://www.NationalComedyFoundation.org
Join Here
—
Individual Lifetime Membership
Only $200

—
Individual Annual Membership
Only $20
—
Corporate Annual Membership
Only $100