Help at-risk teens find confidence and positive self-awareness.
Young people develop……
Confidence
Courage
Critical Thinking
Time Management
Creativity
Communication
Instead of looking at situations in a negative way with negative and harmful outcomes, we help teens to look for positive ways of dealing with life's hard issues. Using humor to give them a more balanced perspective on things. We employ techniques that help angry and frustrated kids to not take themselves too seriously and allow them to examine their situation and find a reason to laugh.
Many young people are trying to find their "voice" in the world. Allowing kids to write down negative events and develop a joke from it helps them to vent their frustration in a controlled setting. Getting up on stage and speaking into a mic allows them to have an outlet that can, not only make other people laugh, but can also educate people.
Thank You,
Jeff Henderson
Founder/CEO
National Comedy Foundation.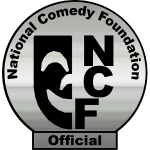 4621 S Shrank Drive Suite 101, Independence, MO 64055